The Sierra County Clerk is the elected official responsible for the keeping of vital records, including County Ordinances and Resolutions (below).
The County Clerk is also the County chief election's officer and oversees all election processes. Early voting is held in the County Clerk's office.
Absentee ballots may be requested from the New Mexico Secretary of State website. More Voter Registration information is available on their Voter Information page or on the US Election Assistance Commission website.
Business Licenses are submitted to the County Clerk's Office. As of January 1, 2013, Licenses are $50 per year. Any person engaged in any business in Sierra County shall obtain a license with the County Clerk's office, unless they are in a municipality, in which case a municipal business license is required.
Business License applications are available below in PDF form, and may be filled out in advance, but must be submitted in person to the Clerk's office.
---
Election Information for the June 2022 Primary
Election Day
Election Day is June 7 2022, with voting from 7am-7pm.
Early Voting
Early Voting for the 2022 Primary Local Election is at the Sierra County Clerk's Office from May 10 through June 3 2022 from 8am-5pm, Monday through Friday. The last day of early voting is on Saturday, June 4 from 10am-6pm.
Proclamation from the Sierra County Treasurer
PROCLAMATION – NOTICE OF ELECTION:
Pursuant to the General Election Law of the State of New Mexico I, Shelly K Trujillo, Clerk of Sierra County, New Mexico, by virtue of the authority vested in me, do hereby issue the following Proclamation.
That a Primary Election be, and the same is hereby called to be held throughout Sierra County, New Mexico and each and every precinct thereof, on the 7th day of June, 2022.
That the Primary Election shall be applicable to the following political parties to wit: The Democratic Party, the Republican Party and the Libertarian Party.
PROCLAMACIÓN – NOTICIA DE ELECCIÓN:
Conforme dispone la ley de Elecciónes Primaria del Estado de Nuevo Mexico, Yo, Shelly K. Trujillo, Escribana del Condado de Sierra, Nuevo Mexico, en virtud de la autoridad que a mi me corresponde, por la presente expido la siguiente Proclamación.
Que se convoque una Elección Primaria y por la presente se convoca, la cual tendra lugar en cada distrito electoral en el condado, el dia 7 de Junio 2022.
Que la Elección Primaria sera applicable a los partidos indicados a continuación: El Partido Democrata y el Partido Republicano y el Partido Libertario.
Download the Full Proclamation (pdf)
Sample Ballots
(as downloadable PDFs)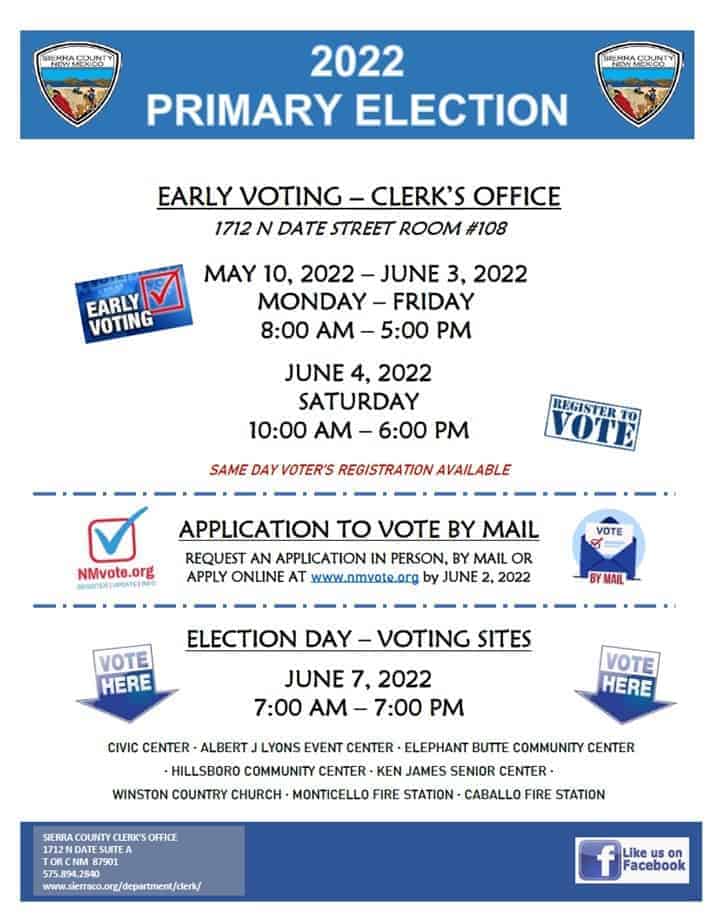 June 7, 2022 Proclamations from the Secretary of State